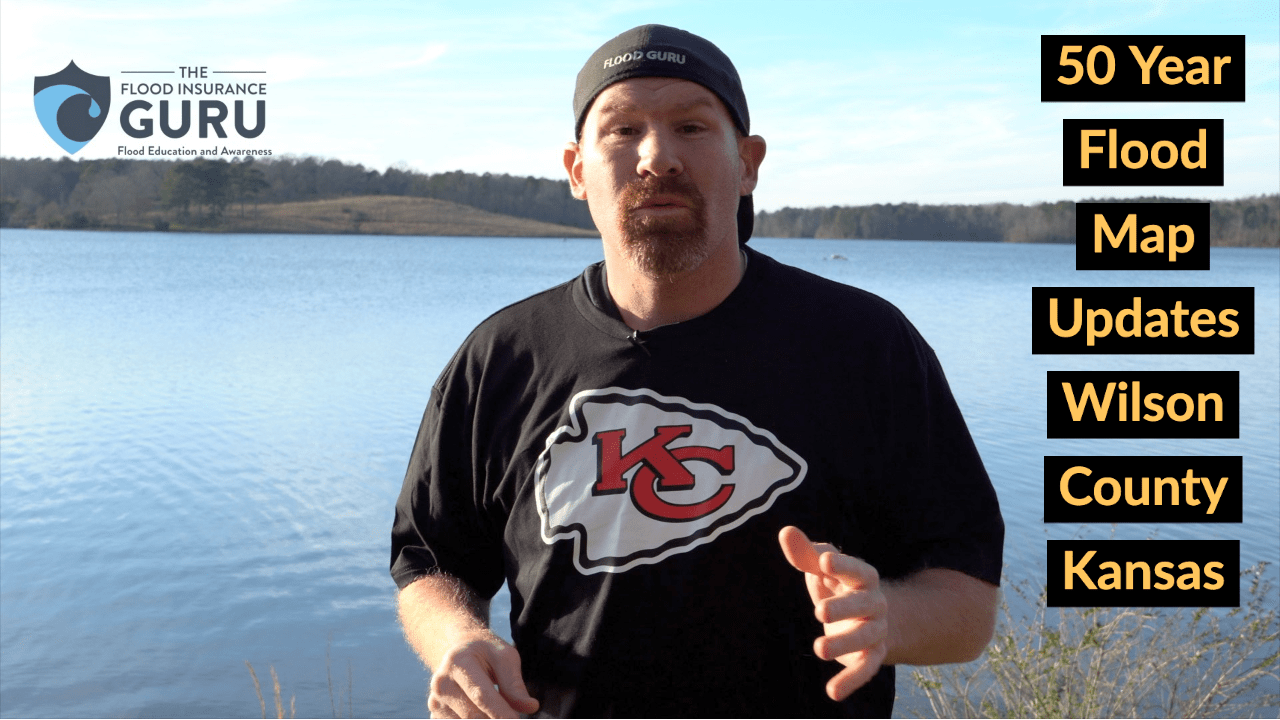 Things can really change over 50 years just ask the Kansas City Chiefs that was the last time they had won the super bowl until February 2020. The same thing goes for Wilson county Kansas who on January 8th 2020 got new flood maps for the first time in 50 years.
In this episode of the podcast we want to look at several things
Major floods in Wilson county Kansas
The flood zones in Wilson county Kansas
Who will be impacted
The flood insurance options in Wilson county Kansas
Major floods in Wilson county Kansas occurred in 1943, 1945, 1951, 1961, and 1976.
1943- 50 year flood event
1945- 200 year flood event
1951- 100 year flood event
1961- 10 year flood event
1976- 5 year flood event
As you can see rivers like falls and Verdigris rivers have caused all kinds of floods in the area through the years. A flood insurance study report was done after the 1976 flood but it was determined that maps did not need to change.
So what are the different flood zones in the Wilson county Kansas area?
You basically have three types of flood zones in the area.
Flood Zone X
2. Flood Zone A
3. Flood Zone AE
So with these maps being updated who will be impacted? These map changes will impact roughly 12% of the county. It will take about 500 properties and place them in special flood hazard areas. This means they will be moved from non mandatory zones to mandatory zones.
So what are the flood insurance options in Wilson county Kansas. Like most areas across the country you have the National Flood Insurance Program and Private flood insurance available.
Remember as long as a community participates in the National Flood Insurance Program then flood insurance coverage will be available.
Now let's look at a couple different options when it comes to the National Flood Insurance Program. As we mentioned before about 500 properties are being moved from non mandatory areas to mandatory areas.
These particular properties qualify for map revision also called newly mapped rates. These are special flood insurance rates that are offered for the first 12 months after the flood insurance map changed. This is almost like a year one break and after that the rate will continue to adjust until the rate meets the risk properly.
Its important when getting flood insurance quotes that you inform the insurance agent that your map recently changed. If not you could be over charged by more than $1000. This is exactly what we had happen to a client in Iowa in 2019 when their flood maps changed.
So what about the other flood insurance option? Private flood insurance is available.
So what is private flood insurance?
This is flood insurance that is offered by private flood insurance companies. Its important that you know not everyone can get private flood insurance. If you have an FHA loan then you will be required to go through the National Flood Insurance Program.
There can be many benefits to private flood insurance like higher amounts of coverage and significant savings sometimes up to 40%.
So we have looked at the new flood map changes for Wilson county Kansas, the impact, the flood zones, and the flood insurance options.
Maybe you have more questions about what you can do to fight these changes? Make sure to visit our website and check out our Youtube channel where we do daily flood education videos.