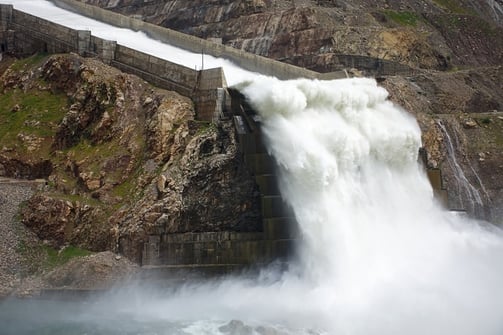 2019 has been a year to remember for the seven states that touch the Missouri River. Montana, North Dakota, South Dakota, Nebraska, Iowa, Kansas, and Missouri have seen Missouri River flooding like never before. Web want to address three major concerns
What Has Caused the Missouri River Flooding?
When Will the Missouri River Flooding Stop?
How Will the Missouri River Flooding Impact Flood Insurance Options?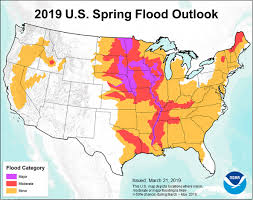 What Caused Missouri River Flooding?
So what has caused all the flooding on the Missouri River? It all started in late 2018 and 2019 with record amounts of snowfall along many areas of the Missouri River in Nebraska, Iowa, Kansas, Minnesota, South Dakota, and North Dakota. This snow has to have some where to go. Normally it gradually melts over about a 2 month period. However 2019 was a little bit different.
In the early spring of 2019 the Midwest was hit with a bombogenesis, or a bomb cyclone, an epic drop in air pressure that triggers historic weather. That rapidly increased this snow melt to a matter of weeks. The combination of rainfall and 30 inches of snow that had fallen earlier in February in areas like Omaha had created some disastrous flooding situations in areas like Nebraska City Nebraska, Kearney Nebraska, and even areas like Des.
Normally this water could have runoff into tributaries but those areas were still full from heavy rains in the fall. As a result the water had no where to go making the Missouri River rise like it had not in more than 50 years. What made things even worse was that with it being an unusually cold winter layers have ice had built up in many lake and river areas. As the bomb cyclone came through it caused the layers of ice to break apart causing ice log jams along the Missouri River. This caused many low risk areas to flood that normally would not have flooded.
When Will the Missouri River Flooding Stop?
The Missouri River will soon be cresting for the 5th time in 5 months. So when will the flooding stop? A very wet spring combined with an early wet summer has made residents wonder if it will ever stop. Flooding can not just stop over night it can take months for the water levels to go down as the land simply can not absorb that much water. When you are dealing with flooded areas like Nebraska City Nebraska are very flat it takes longer for the water to go away. You also have to wait for other rivers waters levels to go down so the water has some where to go.
Missouri Flooding Impact on Flood Insurance Options
One flood after another in 2019 has definitely impacted flood insurance options in Nebraska, flood insurance options in Missouri, and flood insurance options in Minnesota. However many people do not even know what flood insurance options are available on the Missouri River.
There are basically two flood insurance options available the National Flood Insurance Program and private flood insurance. The National Flood Insurance Program also known as NFIP is the government regulated program. Coverages and rates are set by the federal government.

Then there is private flood insurance which many people did not know was available. Private flood insurance is flood insurance that is backed by private flood insurance companies.
Now that we know the two options for flood insurance in Nebraska, Minnesota, and Missouri lets talk about the impacts the Missouri River flooding is having on them. First of all it is not impacting the availability of flood insurance through NFIP at all. As flood insurance through NFIP is always available and does not do moratoriums just a standard 30 day wait period. The big impact is on the private flood insurance side. When disasters like the Nebraska flooding of 2019 hit private flood insurance companies can stop making flood insurance available or even skyrocket rates. This is exactly what happened in areas of Nebraska and Iowa. Certain private flood insurance companies have not made flood insurance available since the end of 2018 creating one of the biggest moratoriums in private flood insurance history.
As a result it has had a big impact on closings for mortgage companies, property owners being forced into higher NFIP premiums, and higher coverages not being available. However as the Midwest heads into dry season companies are optimistic that flood insurance policies will soon be available once claims start coming in. However each time it floods its like starting over.
So you can see the Missouri River flooding has been a historical event for a few months, its limited flood insurance options for property owners, and caused catastrophic damage.
If you have further questions about the Missouri River flooding or what the flood insurance options are in Nebraska, Missouri, Minnesota, or other parts of the Midwest please visit our website Flood Insurance Guru. You can also check out our YouTube channel or Facebook page The Flood Insurance Guru where we do daily flood education videos. You can also listen to our weekly Flood Guru podcast or join our open facebook group Flood Education and Flood Insurance Awareness where we answer flood questions everyday. You can also click the link below to learn more about flood insurance options.