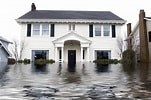 Whenever you hear the word flood it can be scary especially if you own a business in Augusta Georgia. The flood of 1990 showed us that everything can be lost in an instant. Lets imagine you have an extremely profitable business. What would happen if that business could not operate for several months?

More than likely if you were not properly prepared the business would close and you would lose everything. This is exactly what floods can do to a business if you are not careful. There are two ways to buy flood insurance for your business, the right way and the wrong way.

Lets talk about the wrong way first. You open up your business and the building you are financing requires flood insurance so you buy exactly what the bank requires, which is to cover the loan. Great you have just helped the bank protect themselves but not yourself. So now if a flood occurs there is just enough coverage there to cover the loan amount which more than likely will not bring the building back to working order. So now you have a building you can not use in the mean time and generate revenue for your company. Also if you have rented this building out to other businesses you may have caused a hardship on there business which could expose you legally.

Now lets talk about the right way to buy flood insurance for your business in Augusta Georgia. First of all when it comes to the building we need to calculate the replacement cost to rebuild it, this way we can make sure it is covered for that amount. Next we need to look at the possibility of loss of business income. A good number to go off here is a six month reserve this way your business can continue operating when repairs are being made. This is probably the number one coverage that business owners leave off their flood insurance. The next area is to look at business property, if the things you use to operate your business each day are destroyed then you won't be able to operate. So when buying flood insurance take inventory of your business property to make sure everything is listed.

If you have rented out your building to other businesses then it is probably a good idea to have them sign a waiver stating business property flood insurance has been offered, this is a coverage that is usually just a couple hundred dollars and highly recommended. There are many others areas that business owners need to look at when purchasing flood insurance. We recommend reaching out to a commercial flood insurance expert like Community First Agency in Augusta at (770) 464-5024 to answer the many questions business owners have about flood coverage.
---