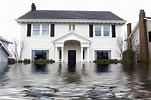 Traditionally flooding in coastal areas has caused widespread deaths and damage. Many times in the after math people do not know where to turn for assistance when it comes to skyrocketing flood insurance premiums.


First of all flood insurance premiums are based off of maps that FEMA approves. These maps are generally updated every few years and often after recent flooding events. In recent years certain parts of coastal Georgia have experience major flooding like they never have before. Because of where the coast of Georgia is located it has been fortunate enough in the past to have limited damage from hurricanes.

However the last few years the Georgia coast has not been as lucky and has suffered major flood damage in back to back years. As a result people are not sure where to turn when it comes to lowering their flood premiums or putting flood insurance in place for the first time.

Community First Agency specializes in helping people understand flood insurance in areas like Saint Simons, Brunswick, Tybee Island, and Savannah Georgia. Over the last year there have been many changes to the flood maps in these areas. As a result many people are able to cut their premiums in half. So it is very important to shop your flood insurance each year to see if your map has been updated. You can click here to see if your map has been updated. You can also contact a flood insurance specialist like Chris Greene with Community First Agency by clicking here or calling 770-464-5024.
---