Alabama is no stranger to flooding. Be this due to consistent rainfall to hurricanes making landfall near the state, almost throughout every year, Alabama will be a victim of this type of natural disaster.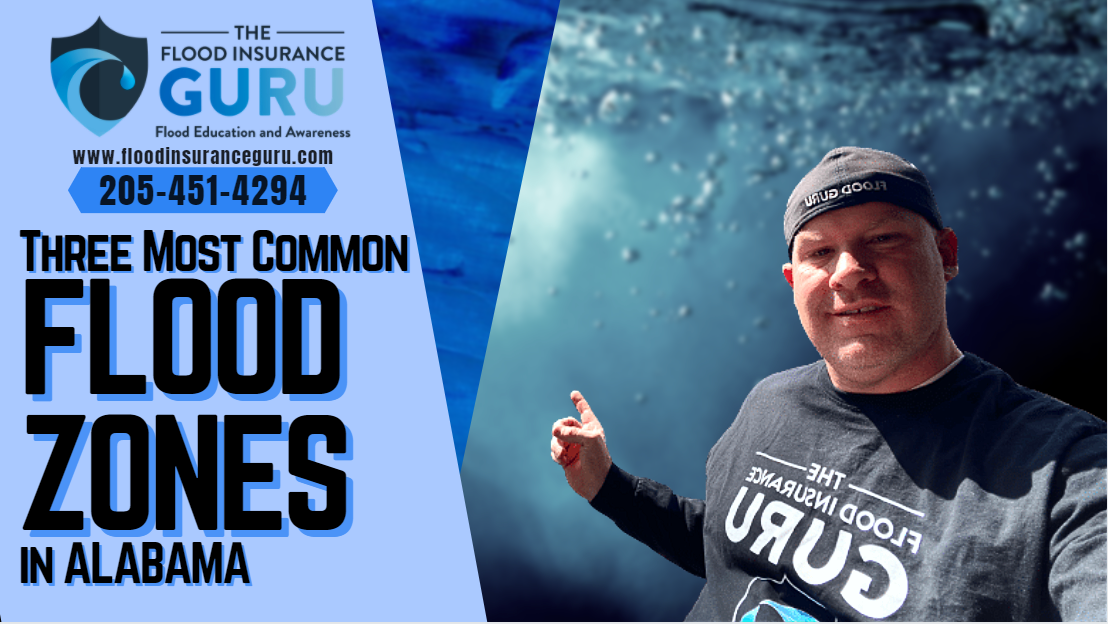 Today, we want to do a deep dive into why flooding is very common in the state and discuss the three most common flood zones in The Heart of Dixie state.
Lookback on Alabama Floods
The state is no stranger to floods especially due to flash flooding. Most of the counties in the state face flood as one of the biggest challenges from heavy rains to tropical storms passing by.
Despite having only one named storm in the last quarter of this year, it doesn't mean everything will be calm. We're still seeing a lot of rainfall and persistent precipitations across the country. In most cases, these conditions are enough to cause enough flooding and damage to multiple areas.
Take note, this is without a tropical storm present and at the most extreme caused by monsoons. Why is this happening you might ask?
We can owe it to what's called the La Niña. La Niña is a "cold event" wherein trade winds are stronger than usual which pushes more warm water toward Asia. Being the exact opposite of El Niño which is commonly known as the "heat event" that leads to week-to-month long droughts in South America and California, La Niña is a mixed bag of weather conditions that are very unpredictable and usually exceed the expectations.
This generally causes some areas of the United States to be very dry while some get very wet. To give an example, 80% of Stanislaus County in California is experiencing very extreme to exceptional drought hence the "very dry" conditions. Add this to the already dried-up ecosystem due to the wildfires, it's no question why the drought continues in the state. However, it's equally important to note that these types of events may just be scratching the surface when it comes to the dangers it presents to locals.
On the other hand, if we look at areas like Washington, a lot of atmospheric river impacts are being felt due to La Niña hence causing floods in the area up to the northwestern regions even in British Columbia. We've also seen how the shift from having warm surface water to a much colder one impacts the weather in areas like Northern California. The northern part of the state recently had to face devastating damages due to atmospheric rivers causing an extreme rain event in the area.
These are just a few of the examples we're seeing in the past few weeks however this doesn't mean that everything ends there. We can still expect more effects of the "small girl" as we end the year and go through the winter season.
Most Common Zones in Alabama
There are three most common flood zones we see the cover of the households in Alabama, these are Flood Zone X, Flood Zone A, and Flood Zone AE.
Other than the letters you might be wondering how these flood zones differ, so we'll discuss that
Flood Zone X
If your property is "not in a flood zone" then you're most likely to be in a flood zone X. Generally this zone has the lowest flood risk due to its relative distance to floodplains where flooding commonly starts. This simply means that flood insurance generally isn't required since the probability of a flood or risk of flooding, and impact a building or property in such zones is much lower than other flood zones.
Keep in mind that we're talking about a low-risk zone and not a no-risk zone. This is generally due to flash floods being more commonly experienced by flood zone X which causes significant flood insurance losses due to the damages.
Some mortgage and/or insurance carriers would also call these preferred flood zones. This is called a preferred zone since it has more favorable rates for the homeowner and risks for the insurance carrier. Even with FEMA, being in a low-risk zone brings a lot of good things because Flood Zone X has lower rates even in flood-prone Alabama.
As we move into Risk Rating 2.0 where flood zones don't impact flood insurance rates, if your property sits on a Flood Zone X, you won't be required to carry flood insurance. However, it's important to remember that 30% of flood insurance claims do come from the homes in Flood Zone X.
Flood Zone A
Let's say you move into someplace else and the property or building is marked as moderate to high-risk flood zones. Flood insurance is mandatory in areas under Flood Zone A on a property(s) with a mortgage or any additional interests in the property or building.
Generally, this zone falls outside of the preferred zones due to higher changes and flood risk overall. In FEMA's legacy program, this is where you'd start seeing some significant increase in the rates of your flood insurance policy.
Another important thing you should remember about Flood Zone A is that its base flood elevation isn't determined yet many times. This makes it a challenge for flood zone changes and flood maps since there's no assurance where the base flood elevation starts. You might wake up one day with your kid's teddy bear soaked under 3-feet of floodwater... or maybe not.
In this case, do keep in mind that when someone tells you to give your house an elevation certificate or you need flood vents for your home, you should always think carefully multiple times if you're standing on Flood Zone A; you wouldn't want your wallet drained of money.
In regards to Risk Rating 2.0, flood zone A simply means that you will be required by your mortgage or FEMA to carry flood insurance on your property. However, being in a higher-risk zone will no longer cause an increase or any impact on your premium rates.
Flood Zone AE
Lastly, the area where lifeboats should also be considered a necessity. All jokes aside, this zone has the highest risk when it comes to flood zones outside of the coasts and is also known as a 100-year flood zone. Since Flood Zone AE has a 0.2% to 1% flood threat at any given month and/or year as it's getting closer to the coast.
Unlike the previous high-risk zone, most properties in the AE zone have determined base flood zones. This is also why it's a higher-risk zone compared to the A zone. Due to this, FEMA and other floodplain management agree that certain conditions can be enough to cause small floods, flash flooding, or widespread floods in that area.
Like Flood Zone A, this zone also requires and mandates that a property must have flood insurance in place especially when there's a mortgage and/or any additional interests.
You don't have to worry since you have options in getting your flood insurance to secure your property values: the National Flood Insurance Program (NFIP) or through the private market (private flood insurance).
Not being aware that you're moving into a special flood hazard area can cause an immeasurable headache for your bank as flood insurance will be required no matter what, and when someone tells you to give your house an elevation certificate, you should probably consider getting one with some flood vents if possible as this can help lower your rates even in Risk Rating 2.0.
Despite removing flood zones as a basis of rating in Risk Rating 2.0, flood mitigations like installing flood vents, securing elevation certificates, elevating your home, and other mitigation efforts are appreciated and will bring you enough decrease to make that FEMA rating easier to manage.
Flood Insurance Guru: Alabama
For this part, we really want to share our experiences serving homeowners and business owners alike when it comes to the residential or commercial properties they want to protect from flood damage and flood loss.
Looking at our data over at Flood Insurance Guru, about 25% of the flood policies we were able to handle in Alabama are currently zoned in Flood Zone X. However, considering that there is impactful development when it comes to the behavior of water and frequency of runoff and flash floods, even low-risk zones aren't really that safe from flooding.
On the other hand, about 21.2% of the policies we have for Alabama are in Flood Zone A. This can be very alarming, if this number rings true to all properties in the state, as homeowners and floodplain management don't really have a clear insight when it comes to the base flood elevation for at least 20% of the properties across the state.
Lastly, in our database for the customers, we have from Alabama. At least 53.7% are mapped into Flood Zone AE. When it comes to floods, this means that more than half of the properties in Alabama have identified base flood elevation and also are more flood-prone due to possible floodplain devolvement.
As you can see, most of the properties in Alabama are in a flood zone. Regardless of being in a Flood Zone X, A, or AE, properties will still get flooded. Basically, saying that a house is "not in a flood zone" is a myth. We want to raise awareness for these types of things especially since flood insurance is something that you really don't have included in any other insurance.
If you have questions on your flood zone in Alabama, what are your flood insurance options in the state, or anything related to flood and insurance, click the links below to reach us. You can also access our Flood Learning Center by clicking its graphic below.
Remember, we have an educational background in flood mitigation which lets us help you understand your flood risks, flood zone, flood insurance, and protecting your property's value long-term.