The Federal Emergency Management Agency (FEMA) is rolling out changes when it comes to flood insurance rates across all states in the country. Today, we will unpack these changes coming to New York and how they can impact your flood insurance in the future.
Today, we have to come down to the concrete jungle where dreams are made of, New York. The Empire State is one of the most colorful places you can go to, surrounded by multiple lakes, a river, and the Atlantic coast itself however when it comes to floods, the state is facing a lot of risks.
We're going to talk about the upcoming changes to the National Flood Insurance Program (NFIP) Risk Rating 2.0 which is expected to arrive on October 1, 2021.
The NFIP 2.0
Keep in mind however that property values won't be the only thing that will determine whether or not you'll get a price increase or decrease with your flood insurance rate. You also have to consider that there are a lot of things that will contribute to the final flood insurance costs you will get such as:
Overall flood risk and flood frequency
History of flood damage and flood loss
History and frequency of flood claims
Flood map designation. Are you in a low-risk flood zone or the high-risk flood zone or the special flood hazard areas (SFHA)?
Mitigation efforts on the insured property. Is your lowest floor above the base flood elevation?

When it comes to the rate changes happening across the country, you're going to see these colors in ranges which represent these changes with flood insurance rates from FEMA. Now, each of these colors represents the good, the bad, and the ugly changes coming to each state.
The National Flood Insurance Program will provide coverage from flood damage on the insured property, which generally are residential properties or commercial properties, that maxes to $250,000. This is also with that coverage on contents or personal things within that property that maxes to $100,000.
It's important to note however that if you're planning to go through FEMA and the NFIP, you better start as soon as possible since you will have to follow a strict 30-day waiting period before your policy can take effect.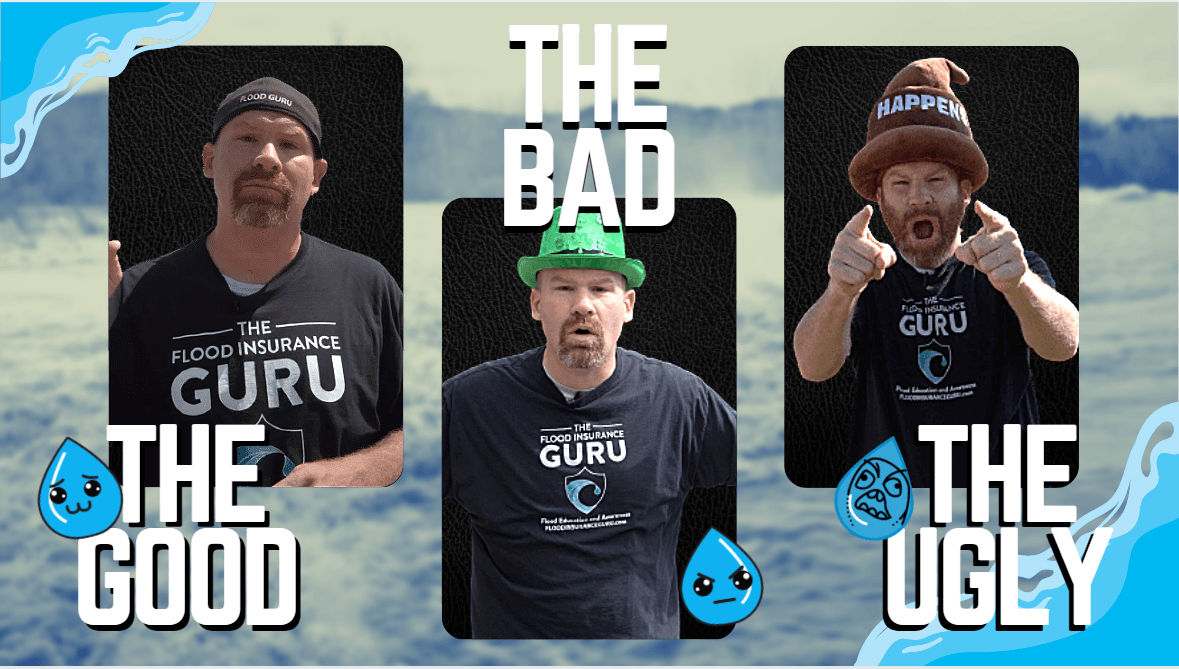 The Good
Starting with the good news we have for the residents of the Empire State, there will be 32% or 54,017 policyholders who will receive a great deal with the Risk Rating 2.0.
We'll show this as the green portion of the pie graph and a good change because this will bring an immediate decrease in rates of more than $100 ($1200 per year). This can really help ease out that premium with FEMA that averages $1300 or more especially for commercial policies in New York.
This decrease in premiums is very helpful for those lower-valued homes since the amount you need to pay for FEMA flood insurance won't seem so absurd for those who are impacted.
The Bad
Now, let's move into the bad news and bad changes that the Risk Rating 2.0 will bring to residents of New York. About 54% or 93,697 policies in force from FEMA will get an increase ranging from $0 to $10 per month ($0 - $120 per year).
This means that if you're part of this blue portion in the graph, you're either going to get $0 or no change with the rates you're paying or pay an increase of $10 per month once the Risk Rating 2.0 kicks in.
The Ugly
Lastly, let's move to the farther end of the graph and talk about the ugly news. This is shown by the pink/magenta and grey portions. It's important to note that the grey portion is significantly uglier of a change compared to the pink one. Let's understand these two.
The pink portion will impact 7% or 12,042 of the policies in New York. This will create an increase for those impacted once the Risk Rating 2.0 kicks in. The increase will be ranging from $10 to $20 per month ($120 - $240 per year).
However, when it comes to that grey portion, we're going to start to talk about a more drastic increase in flood insurance rates. Another 7% or 11,354 policies in New York fall under this change. The increase in rates will be more than $20 per month (>$240 per year). This simply means that there's a chance that your increase will be at that $100 mark.
This price hike can easily be deemed as an alarming increase especially for the low-income communities that might be impacted by this change. This is why it's equally important to understand your flood insurance options as this increase may not help your situation and only cause more headache than peace of mind.
You also have the private flood insurance market and since private insurers are the ones who will cover your policy, you can get a great deal and won't have to deal with all that red-tape FEMA has to go through. The private flood insurance market doesn't have any coverage limits and has a shorter waiting period of 10-14 days. You wouldn't want to pay for a $3,000 premium only to get covered for only $250,000 on a $500,000 home.
You can see the full pie graph of these changes to New York below: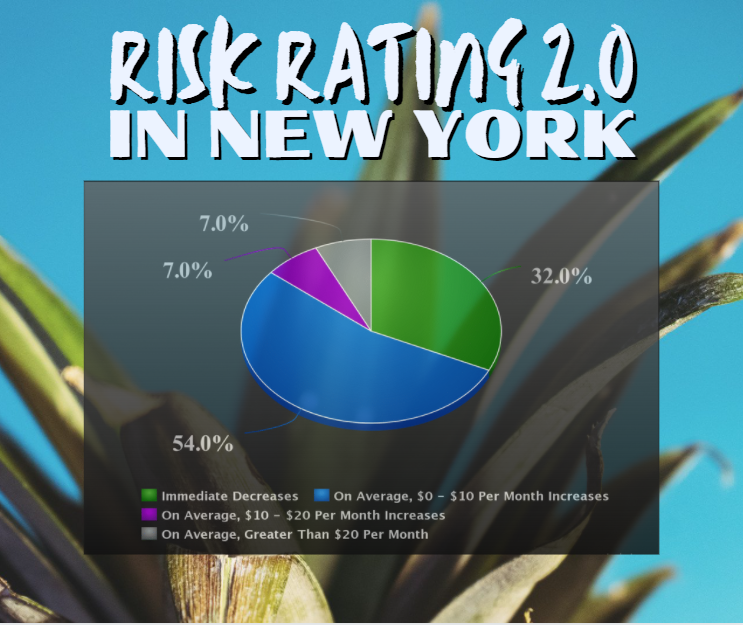 When Will It Happen?
Now, the date when you can adopt this program really depends if you're doing a renewal or if it's a new business policy. You see, you can expect these changes to start on October 1st and you're going to adapt to these rate changes if you're buying flood insurance from FEMA on or after that date.
On the other hand, if you're doing a renewal with FEMA after that date then you don't have to take in these new rate changes until April 1st, 2022.
So, you want to be very ready for this. We've been talking about this since last year since basically the NFIP is already 30 years old already and is in need of this change.
If you have questions on these upcoming changes, what are your flood insurance options in New York, or anything about flood, reach out to us through the links below. You can also watch this on our YouTube channel.
Remember, we have an educational background in flood mitigation and we want to help you understand flood risks through education and awareness in flood insurance and preparedness.