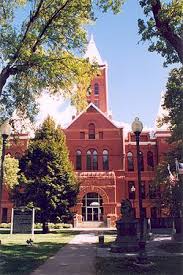 Today we are discussing the upcoming flood insurance map changes for Aurora Nebraska and Hamilton county Nebraska. Here are four things we want to address today.
Why are the maps in Aurora Nebraska changing?
Who will be impacted?
Can you fight the changes?
What are the flood insurance options in Aurora Nebraska?
Why are the Flood Insurance Maps Changing in Aurora and Hamilton county Nebraska?
So why are the flood insurance maps changing in Aurora Nebraska? Land development and a movement from paper maps to digital maps are a few reasons why. Aurora has also had a history of flooding through the years, but these maps are also being updated because certain things point to additional flooding exposures.
Flooding Risks in Aurora Nebraska
Aurora and Hamilton county Nebraska have some unique flood exposures. Let's talk about a few of them. Traditionally this area has some very cold winters combined with large amounts of rainfall. As a result when spring storms come through they can speed up the snow melt process and even block local lakes and rivers with blocks of ice causing flooding. Parts of Aurora Nebraska are very flat causing challenges for water runoff. This especially can create hazardous conditions from properties that sit in these areas. So when large amounts of rainfall occur like they did in early 2019 this water simply has no where to go.
Who is Being Impacted in Aurora and Hamilton county Nebraska?
The impact for Aurora Nebraska will be fairly large from a percentage standpoint. 12.5% of the population could be impacted by these changes. It does not mean its a bad impact . Some will be removed from high risk flood zones and some will not.
Right at 966 property owners are predicted to be moved into a high risk flood zone. This means they will either be moved from a flood zone x to a flood zone A, or flood zone AE.
Can You Fight the Flood Zone Changes?
So can you fight the flood zone changes in Aurora and Hamilton county Nebraska? Yes you can fight it because of the way FEMA makes their flood maps and determines the flood zones these changes are not always accurate. For example FEMA might say your property is in a high risk flood zone but your house sits on a hill. FEMA is using the entire parcel in determining the risk and not necessarily the structure.
So what do you need to fight it? Well generally the easiest thing is to have an elevation certificate. What is an elevation certificate? This is a certificate done by a surveyor that shows the different elevations of the home and how they compare to the base flood elevation. How much do elevations cost? The national average on these range from $500-$700. Who can help you fight it? At The Flood Insurance Guru we help people fight these everyday. So how do you know if you are a good candidate to get your flood zone changes? The best place to start is by looking at the lowest adjacent grade on the elevation certificate. If it is more than a foot above the base flood elevation then you might be a good candidate. If not then we recommend letting us do a deeper flood zone change review for you.
What are the Flood Insurance Options in Aurora Nebraska?
When it comes to flood insurance in Aurora Nebraska or other parts of Nebraska you have two options for flood insurance. You can go through FEMA or NFIP and the private flood insurance market.

Private Flood Insurance
Private flood insurance is done a little bit differently than NFIP. First of all it is backed by private flood insurance. So while NFIP has to accept all risks private flood insurance can pick which risks it wants. Because of these many times private flood insurance rates can be 50% less than NFIP policies. So what does a private flood insurance policy cover?
Private flood covers the building and contents like NFIP does but does not limit the coverage. Some other things they offer are contents coverage in basements, temporarily living expenses, and replacement costs on contents. You should also know that while FEMA makes you do a seperate policy for each detached structure private flood does not. You could list multiple structures on the same policy saving a good amount of money. This is very important in heavy farming areas like Aurora Nebraska. It's important to understand how underwriting works on private flood. If a property has had flood claims paying out more than $25,000 then you could be declined for private flood insurance in Nebraska.
Understanding the upcoming flood map changes for Aurora Nebraska can be overwhelming. Is it impacting you, how much it is impacting you, and when will you be notified? Maybe you have more questions about these changes or want to get a flood insurance quote. You can click the link below to start this process. Remember to visit our website Flood Insurance Guru, our YouTube channel The Flood Insurance Guru, and our Facebook page The Flood Insurance Guru where we do daily flood education videos.