Today, we answer one of the FAQs that we get in the Flood Insurance Guru and in the flood insurance industry in general, "Does flood zones determine whether flood insurance is required or not?"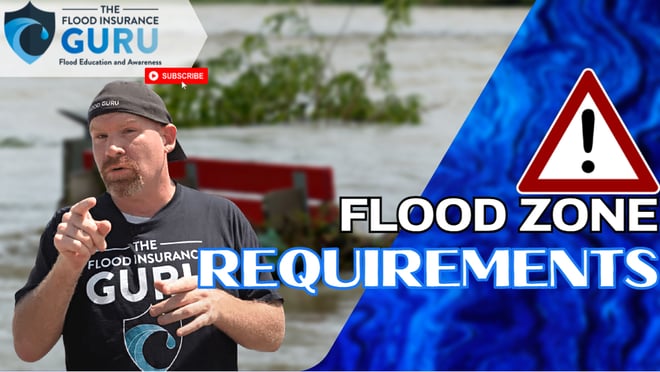 If you want to check this video out, click the player below so that you can watch it while you read:
Flood Zones
Now, we've discussed a couple of times what flood zones are and if you want to know more about it, we'll include our podcast episode on understanding flood zones below.
To give a brief review, flood zones determine the rate of a property's flooding depending on how close or far it is from a floodplain area. Floodplain is a flat area of land that's directly sitting beside a river or any body of water. Generally, when you're in a floodplain you're most likely to be zoned into the Special Flood Hazard Area (SFHA) when it comes to Flood Insurance Rate Maps (FIRM). The SFHA is also known as the high-risk flood zones like Flood Zone A and Flood Zone AE.
What's important to note here is that even if you're not in the SFHA or maybe you're in a preferred zone like Flood Zone X, you still aren't exempted from floods. According to the Federal Emergency Management Agency (FEMA), at least 25% of flood insurance claims come from these low-risk zones. Like we always say, floods don't really know when one flood zone ends and it's not something that stops when a certain high-risk area ends.
How It Impacts Flood Insurance
When talking about the impacts of a flood zone on flood insurance we have to consider two different things: flood insurance rates and flood insurance purchase requirements.
Let's talk about flood insurance rates first. At the current version of the National Flood Insurance Program (NFIP), properties in a high-risk zone generally get higher flood insurance rates and flood insurance premiums compared to those in the low-risk zone.
Take Flood Zone V for example. Generally, this coastal zone would see about a 100% - 200% premium increase if you were to clash it with what properties in Flood Zone X would get. It's equally integral to keep in mind that floods are also based on the Base Flood Elevation (BFE).
The BFE determines the elevation that floodwaters are expected to rise to during a base flood event which generally has a one percent chance of flooding at any given year. Depending on where your zone is right now and how low your building's lowest floor from the BFE is, you might see your flood insurance rates go off the roof.
If you want to know how to check your property's flood zone, click below to call us:
Flood Zones and Flood Insurance Requirement
Now, let's talk about mandatory flood insurance purchases. Both in our current FEMA and NFIP flood insurance program as well as the new Risk Rating 2.0 program, flood zones will still maintain that regulatory power when it comes to flood insurance. However, when it comes to rates in the Risk Rating 2.0, flood zones won't impact rates anymore.
What's important to note here is that if you're in SFHA communities, you're most likely to receive a letter from your mortgage that will require you to process a mandatory flood insurance purchase. This is to make certain that the structure that your bank is covering will be protected from any and all additional hazards.
Simply put, if flood maps show that your property is a Flood Zone A, Flood Zone AE, or Flood Zone V, your mortgage lender is going to require you to carry flood insurance. However, if you're in a Flood Zone X, you won't be required to carry flood insurance on your property.
Do we recommend properties in low-risk flood zones to completely forget about getting a flood policy? No. In fact, we encourage this even if it may sound like another insurance that you're going to pay for because floods can literally and figuratively take your property from you. This is regardless of flood zone maps put you in a low-risk area where the mandatory purchase isn't expected.
It's important to keep in mind that substantial damage from flooding can be detrimental to your investments in your property and way of life. Without flood protection, who knows how much damage a small amount of rain can cause you.
If you have questions on your flood insurance requirements, your flood zone, your flood risk score, or anything about flood, reach out to us by clicking below.

Remember, we have an educational background in flood mitigation which lets us help you understand flood risks, your flood insurance, and mitigating your property long-term.