Recently I was shopping at a local grocery store. I went to grab some eggs for my family's weekly homemade breakfast. As I picked up the eggs I felt like I had been electrocuted when I saw the price of $8.99 for a dozen eggs. Then I grabbed some milk with just as much shock!
Really, it's a good thing that I buy our meat in bulk or I might have not survived this trip to the grocery store.
It got me thinking about my flood insurance renewal coming up. Are we going to be just as shocked by the pricing of flood insurance policies in the future? Today, we are going to discuss the past and future when it comes to flood insurance pricing.
You can watch a video on this topic below or by clicking here:
Let's take a look down memory lane before the National Flood Insurance Program (NFIP) had all these changes with Risk Rating 2.0 and the advancements of private flood insurance. Historically, flood insurance pricing was built using the following things:
So, if we had 2 properties with the same foundation type and elevation, then the rate might be the same.
FUTURE OF FLOOD INSURANCE
However, the future is now here where things like claims history, type of flooding, and flooding frequency are having major impacts on flood insurance rates for property owners and insurance agents. Even the replacement cost of a building is having an impact on flood insurance renewal pricing.
One thing that is driving this is the rapid change of flood risks for low-risk and high-risk flood areas. Property characteristics are playing a bigger role in how current flood insurance pricing is built with federal flood insurance and private flood insurance.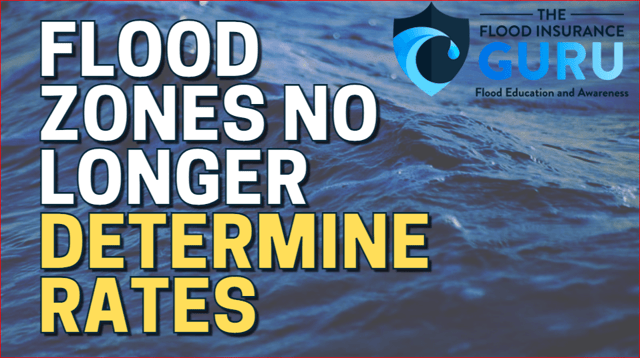 Flood zones are now having minimal impacts on the cost of flood insurance and things like historical flood damage are having a bigger impact. As a property owner, it's important to know what impacts these rates so you can keep as much money in your pocket as possible.
We didn't come here to make you feel like the world is ending — it might if it keeps flooding. However, in the meantime, let's talk about what you can do to keep your flood insurance pricing more stable.
KEEPING THE BEST FLOOD PRICING
One thing is making sure that an accurate replacement cost calculator is being used to determine the coverage you need. While there can be some premium discounts like the Community Rating System (CRS) discount and mitigation discount, the greatest impact on your flood pricing depends on the flood insurance option you're going for.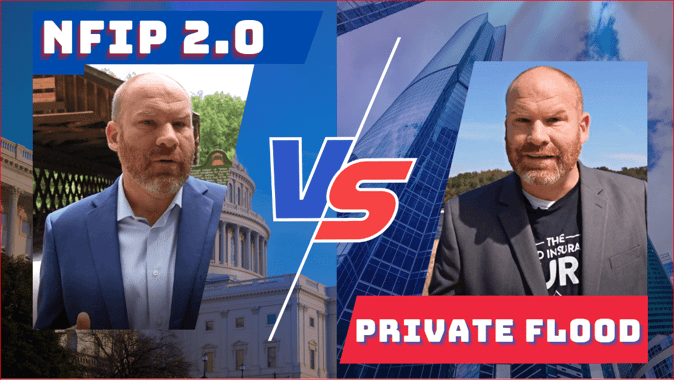 Traditionally, if you had something like an FHA loan, VA loan, or even a USDA loan then you had one option available; you were forced to the National Flood Insurance Program (NFIP).
However, as of December 21, 2022, these loans now allow private flood insurance. This means you could possibly see up to a 40% decrease in flood insurance simply by picking a private flood insurance option.
Is this going to give you the same building and content coverage as you have now? It might actually give you more coverage as residential flood insurance coverage is not limited to $250,000 on building coverage and $100,000 on contents coverage.
It's also important to know not all private flood insurance company options are the same. One might have higher pricing than others. One might offer more coverage than others.
This is why it's important to look at all the private flood insurance options at each flood insurance renewal date. Some private flood insurance companies look at these things on your flood insurance:
Flood type
Flood risk variables
Flood frequency
Unlike the National Flood Insurance Program's policy assumption process property changes in ownership could have a big impact on flood insurance rates.
Almost every week I speak with someone who thinks their rate will be the same as the current owner. However, with some private flood insurance companies this couldn't be further from the truth.
We can all agree that flood events are happening more often across the country and flood insurance claims are coming in at an all-time high. So no one should be shocked about the changes to flood insurance premiums.
It's important to know many flood insurance premiums across the country are actually going down. FEMA's new rating methodology has shown this across the country over the last year.
If you want to learn more about flood insurance pricing click here. You can also visit the flood learning center.
If you are ready to take the next steps to get the right flood insurance coverage then there are three simple steps.