We have officially started the hurricane season and we should be gearing up to become even more prepared for the threat of flood. Hurricanes present a lot of reasons for flooding other than heavy rainfall, we also have to consider storm surge, runoff from spring, and the melted ice and snow from winter.
Today, we'll unpack the upcoming flood insurance rate map changes to Baltimore which will take effect on June 16th, 2021.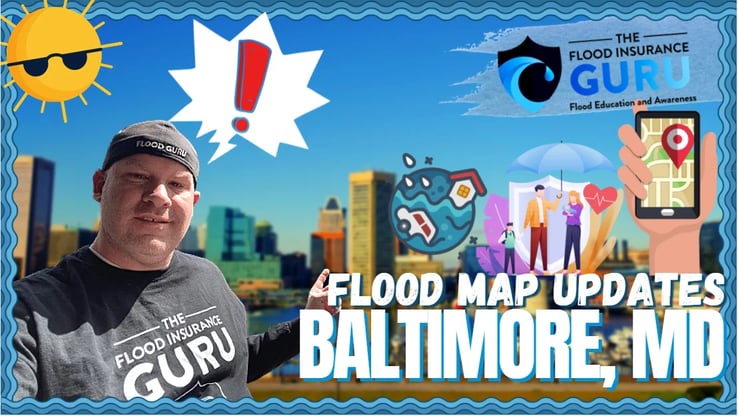 History of Flood
Baltimore faced a lot of flooding throughout its course in history. We can even just look at recent years and see how much impact the hurricane season has on the city through floods.
In 2003, Hurricane Isabel caused $4.7 million in flood damages to Baltimore after five to ten inches of rain fell and up to six feet of storm tides ravaged Maryland. It also seemed that history repeated itself 2 years after, in 2006 Tropical Storm Ernesto caused the same flood event in the city. In 2008, Tropical Storm Hanna made landfall in South Carolina however also lingered most of the eye of the storm east of Baltimore.
Even at the time of writing, a lot of places in Maryland and specifically Baltimore is currently flooded due to heavy rains. So, let's talk about the good, the bad, and the ugly changes that the new flood map updates will bring to Charm City itself.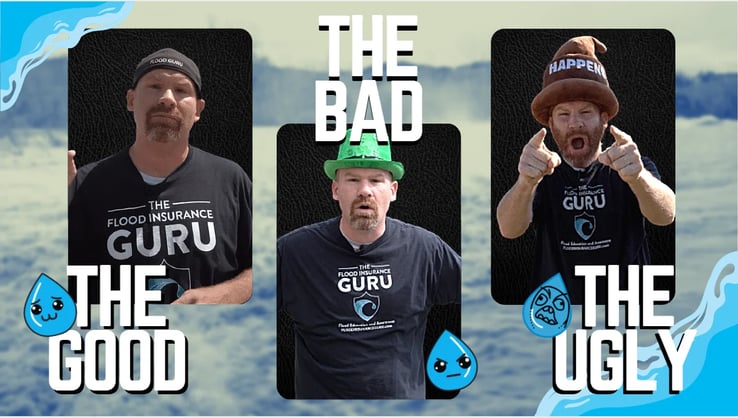 The Good
First, let's go over the good things coming to Baltimore and its residents. The good news is that 467 properties are going to be moved "out to in". This simply means that these property owners will be mapped out of the high-risk flood zones or the special flood hazard area (SFHA) and into the low-risk flood zones. Some would call this moving to a Flood Zone X.
This also means that you're going to be moved from the mandatory flood zone to the non-mandatory flood zone or preferred flood zone. Flood insurance for properties in these zones won't be required by mortgage companies however it's important to note that this doesn't eliminate the risks for flooding. Also, the Federal Emergency Management Agency (FEMA) notes that 30% of flood claims are from these low-risk zones, so better have your flood insurance always at the ready.
The Bad
Now, let's talk about the bad changes coming with that movement called "in to out". This will be the exact opposite of the good change meaning that properties will be moved from a low-risk flood zone to a high-risk flood zone or the SFHA. Some would call this moving to a Flood Zone A.
About 662 properties are expected to be mapped into these mandatory zones which means that if you're not carrying flood insurance for your property, you can expect your mortgage company to send you a letter to let you know that you're now required to have flood insurance for your home. Now, if you already have a policy, you can expect to get higher flood insurance premiums with this new flood zone you're in.
The Ugly
Lastly, we have the ugly changes with this new flood map for Baltimore. About 3900 properties will be experiencing the "in to in" movement. This means that you might already be in a high-risk zone or the SFHA and you're going to move deeper into higher-risk zones. This means that you might already be in Flood Zone A right now and you'll be moved into a Flood Zone AE.
Being in the SFHA and higher-risk flood zones can really hurt your chances of getting to private flood insurance since these carriers have an option to pick and choose who they provide insurance to. Most of the time, these high-risk zones are something that they avoid. This can also mean a drastic increase in premiums of up to 15%.
Now, let's talk about how you can prepare for these changes and what the best flood insurance option is for you.
Flood Insurance Options
When it comes to flood insurance options, it's important to note that it won't matter what loan type you have since you can choose to go through either of these options. We have federal flood insurance and private flood insurance. Let's go through each option and understand their differences.
The NFIP Option
Federal flood insurance provided by the Federal Emergency Management Agency (FEMA) through the National Flood Insurance Program (NFIP). Now, it's important to note that you can access this flood insurance option only if you're in a participating community.

The NFIP offers coverage for properties, buildings, or structures of $250,000. When it comes to property coverage, other properties that aren't listed as the main building will have to get a separate policy for those additional buildings. Contents and personal items will have a coverage of $100,000. It's important to note that these coverage amounts are maxed out to those numbers. The NFIP won't also provide additional living expenses, replacement costs, and loss of use with their policy.
It's important to note for those who will experience the bad and ugly change that FEMA and the NFIP will have what's called newly mapped rates which help you ease into the new flood zone's premiums. If you're looking to buy flood insurance through FEMA, you may have to follow a strict 30-day waiting period before the policy can take effect on your property.
The Private Flood Option
On the other side of the fence, you may go through private insurance companies' flood policies also known as the private flood. Since this is provided by private insurers, you won't have to go through the red tapes that the federal flood insurance may have. Immediately, you can see this on the general waiting period for private flood insurance. The maximum waiting time for private flood is fifteen days this is considering that you're going to have to wait in the first place.
Private flood insurance also doesn't have any coverage limits to the amount they can cover for property and personal items. This means that you can go up to $10,000,000 for the property damage coverage if you'd want to and $1,000,000 on personal items. Now, it's important to note that this is relative to your property's construction which is why it's highly recommended that homeowners with expensive buildings go through the private flood.
Private flood insurance also provides additional coverages like additional living expenses, replacement costs, and loss of use which really protects the way of life policyholder from the aftermath of flooding.
At the end of the day, it's important that we keep our guards up and especially when cities on the coasts like Baltimore can have a bigger flood threat due to storm runoff, spring thaw, and coastal flooding.
So, if you have any questions on flood map changes, flood insurance, or your flood risks, reach out to us. Remember, we have an educational background in flood mitigation and we want to help protect the value of your property long term. Click the links below to watch our daily flood education videos on YouTube, call us, or get a quote from us so you can get started on your flood insurance purchase today.